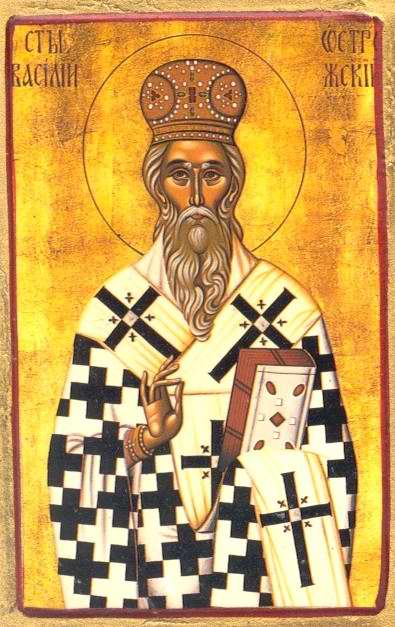 St. Vasilije Jovanovic Ostroski
(Popovo Polje 1610 - The Ostrog Monastery 1671)
St. Vasilije was born in Popova, around Trebinje a village in Hercegovina of simple and God-fearing parents. From his youth, he was filled with love for the Church of God and when he reached maturity, he entered to the Monastery of the Dormition (Assumption) of the Birth-giver of God in Trebinje and there received the monastic tonsure. As a monk, he quickly became renown because of his genuine and rare ascetical life. Saint Basil took upon himself mortification upon mortification each one heavier and more difficult than the last. Later, against his will, he was elected and consecrated bishop of Zahumlje and Skenderia. As a hierarch, he first lived in the Monastery Tvrdosh and from there, as a good shepherd, strengthened his flock in the Orthodox Faith, protecting them from the cruelty of the Turks and the cunning ways of the Latins. When Basil was exceedingly pressed by his enemies and, when Tvrdosh was destroyed by the Turks, he moved to Ostrog, where he lived an austere ascetical life, protecting his flock by his ceaseless and fervent prayer. He was a person of exceptional virtues, the protector of people, healer and miracle worker. His relics are in the Ostrog Monastery, and their healing power is believed in, not only by the Orthodox believers but other believers as well.